What is it ?
Speak is a tool that allows to create an interface presenting a sound lexicon based on a list of words. Each word is related to a sound feature explained by a definition and highlighted by a corpus of sound examples organized in categories.
Based on academic research, Ircam offers its sound lexicon by default, the Ircam lexicon. But, Speak allows also to create a customised lexicon for a specific project.
The interface
The patch to create the interface was developed by Fred Voisin.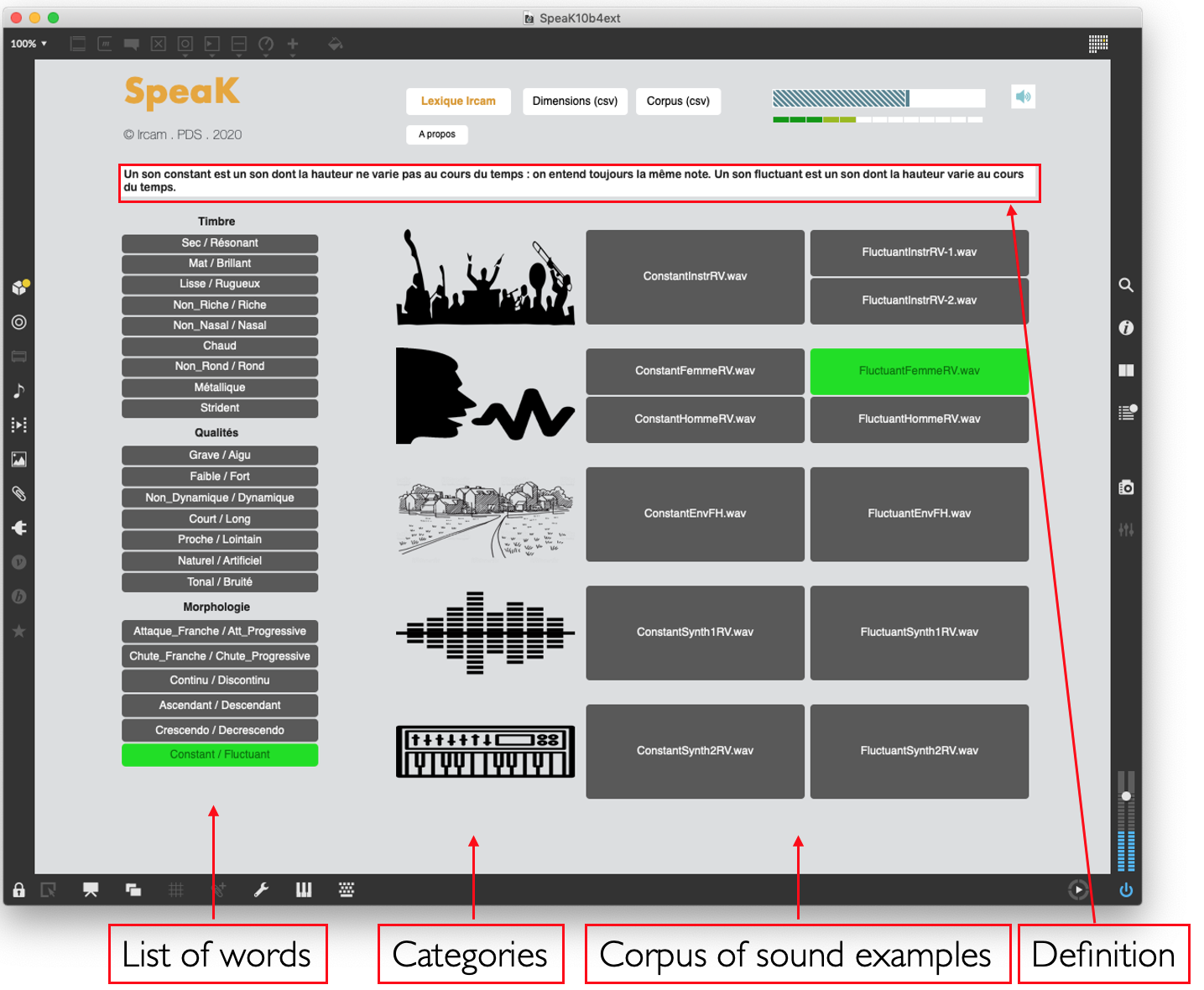 The Ircam lexicon
Informed by a review of the academic literature on verbal descriptions of sounds and a series of interviews conducted with sound practitioners, a potentially normative lexicon of words to describe several sound features is proposed by the Ircam lexicon.
This work is fully described in Carron et al. Journal of Design Research (2017).
The list of words
The words are taken from Carron's study, and are grouped in 3 classes:
words related to timbre such as : dull-bright smooth-rough warm round ...
words related to general qualities such as : low-high soft-loud tonal-noisy ...
words related to temporal morphologies such as : attack release fluctuating ...
Most of the words are grouped by pairs to define a clear opposition such as dull-bright. In that case Speak propose an example for dull and an example for bright presented together. Few words such as warm are presented alone; it means we don't yet how the opposite sounds like.
The definitions
A definition based on interviews and questionnaires with sounds practitioners, followed by a semantic analysis, is proposed for each word.
The corpus of sound examples
An important work was done to propose good sound examples for the Ircam lexicon. They were created to highlight the sound features related to the words.
In the actual version, each word is illustrated by 5 categories of sounds:
musical instrument sounds
female/male voice sounds
environmental sounds
elementary sounds
designed sounds
The sounds were created, selected and mastered under the artistic direction of composer Roque Rivas. All the sounds are © Ircam 2021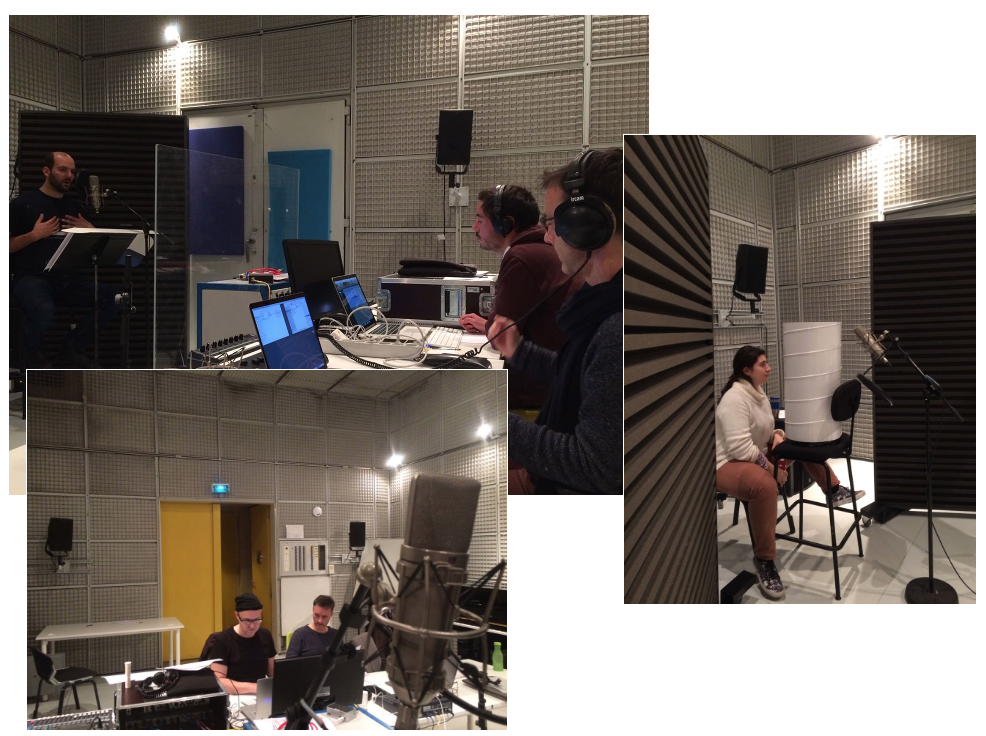 Voice recording sessions at Ircam for the Ircam lexicon
The customised lexicon
What is nice with SpeaK is that each user can easily modify the existing lexicon by adding or removing words or sounds, and can thus reconfigure a completely customised lexicon.
Just two text files have to be modified (see How to start ?).
The contributors
The Speak tool and the Ircam lexicon project was supervised by Patrick Susini in collaboration with Victor Rosi, Romain Barthelemy, Olivier Houix and Nicolas Misdariis from the Sound Design and Perception group.
The Speak patch was developed by Fred Voisin.
Sound examples for the Ircam Lexicon were created, selected and mastered under the artistic direction Roque Rivas. The category of environmental sounds was proposed and recorded by François Hamon (DNSEP Sound Design, Esad-TALM). Singers for the voice sounds are : Nicolas Certenais and Marina Ruiz. Sound engineers are : Jeremy Bourgogne and Sylvain Cadars.
The initial work is based on Maxime Carron PhD done at Ircam with a financial support by SNCF.
References
Carron M, Dubois F, Rotureau T, Misdariis N, Susini P. Speaking about sounds: a tool for communication on sound features. Journal of Design Research, 2017, 15(2), 85-109.
Carron M, Dubois F, Misdariis N, Susini P. Defining a brand sound identity: methodology and tools. 2006(44):46-50. Acoustique et Techniques. 2014(81):20-26.
Carron M. Méthodes et Outils pour Définir et Véhiculer une Identité Sonore : Application au design sonore identitaire de la marque SNCF PhD thesis. Université Paris 6 (UPMC), 2016.
Rosi V, Houix O, Misdariis N, Susini P. Uncovering the Meaning of Four Semantic Attributes of Sound : Bright, Rough, Round and Warm. e-Forum Acusticum 2020, Dec 2020, Lyon, France
---
©IRCAM, 2020. All Rights Reserved. 1, place Igor-Stravinsky 75004 Paris +33 1 44 78 48 43